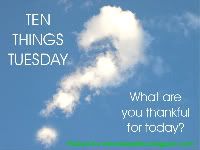 1) My 2 boys who prefer to dig in the dirt instead of playing on expensive, massive playground equipment.
2) Coke Cake Cupcakes - YUM!
3) My husband who comes home from work in the mornings so that I can take a quick and peaceful warm shower.
4) Perfect blue skies and sunshing
5) Teachers at the CDC who love my little boys even when they act like little toots!
6) Bailey's first official tinkle on the potty today! Yeah for teachers who help potty train!
7) The Southwest Chicken Salad is back at Mickey D's.
8) Having so many items of clothing that it doesn't matter how much is dirty, there's always something clean!
9) Anticipating the Biggest Loser tonight!
10) Knowing our country is free because we have great leaders like my Hub, the LT in place!