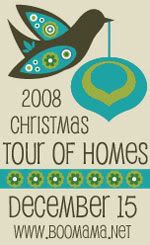 I've never done this before, but decided this year to participate in
boomama's
Christmas Tour of Homes. You'll have to go check out all the other homes! Some are much more elaborate than I have the energy for these days. So here are pictures from my world.
Here's my blue and silver tree. It's lacking some pizzazz this year, but I have a whole box of ornaments that I didn't put on the tree because I figured the fewer available to break, the fewer that would get broken.

This is my dining room table. I actually just got some new candle holders as a gift yesterday that might get put on the table before the end of the season!

These are my outside Singing Mice that my mom and stepdad made for us. We just got Maverick's mouse in the mail a few weeks ago so the mice family is complete until May. I guess Kirby will be cutting and painting a new mice for us by next Christmas!

This is the wreath I have hanging on my front door. I bought this ribbon to use as decoration at our Christmas wedding that turned into an August wedding. It's come in handy for Christmas decorating. I still have about 4 or 5 rolls of it that have never been touched! Somehow this wreath has survived 3 moves!
This is the top of my cabinets in the kitchen. Last year I put garland all throughout this display, but this year I haven't gotten the garland out of the box! I've started a collection of Army Soldier nutcrackers so if you ever see a nutcracker clad as an Army Soldier let me know where to look!

Hope you enjoyed this tour of my minimal Christmas decorations this year. I WILL be shopping for some new stuff on December 26th!